Date: August 17, 1982
Place: Motel 6, 3228 N. Chestnut St., Colorado Springs, CO. 80907
Mileage: 85287.3 - 72.6miles
Food:
Breakfast: $2.94 - Alpine Slide (Donuts & Milk)
Lunch: $13.07 - Show Big Pizza (Colo. Springs)
Snack:
Dinner: $28.11
Logging:
$22.95
Gas:
$22.00
Sightseeing:
$31.50 - Alpine Slide Col. Springs
$12.25 - Manitou Incline R.R.
$7.00 - Minamont Castle
Misc:
$21.53 - Oil Change - Standard
Free - Car Wash
$1.05 - Life Savers
$0.15 - Chinmunk food
Total Spending: $162.55
---
Tuesday - August 17, 1982 - 8:25 am
8:25 am M.D.T. - AAA said the Alpine slide on Colorado Springs opened at 9:00 am. Got there about 9:30 and it opened at 10 am. RAch took three rides down the mountain. Really enjoyed that! I took the slow lane, with no one in front of me I could go pretty quickly. Got off the mountain around 11 am. Ate donuts and milk for breakfast. Yet again I feel a need to interject something here. I have no idea how many people reading this have ever been on an Alpine slide. It's one of my favorite activities in the mountains. Many ski resorts have these items set up as well. They are concrete lanes that are set up on a section of the mountain near the ski lifts. During the summer months, these lifts will take you up the mountains and you will grab a sled to head over to the lanes. (Usually two side by side, with one for slower riders and one for fast riders.) The sleds have brakes in the back and a stick you push forward to lower a set of wheels. If you take your hands off the stick, the breaks in the back will stop you, eventually or you can pull all the way back on the stick to stop instantly. It's like a roller coaster you control the speed on. If you have never been, you owe it to yourself to find one near you and try it out.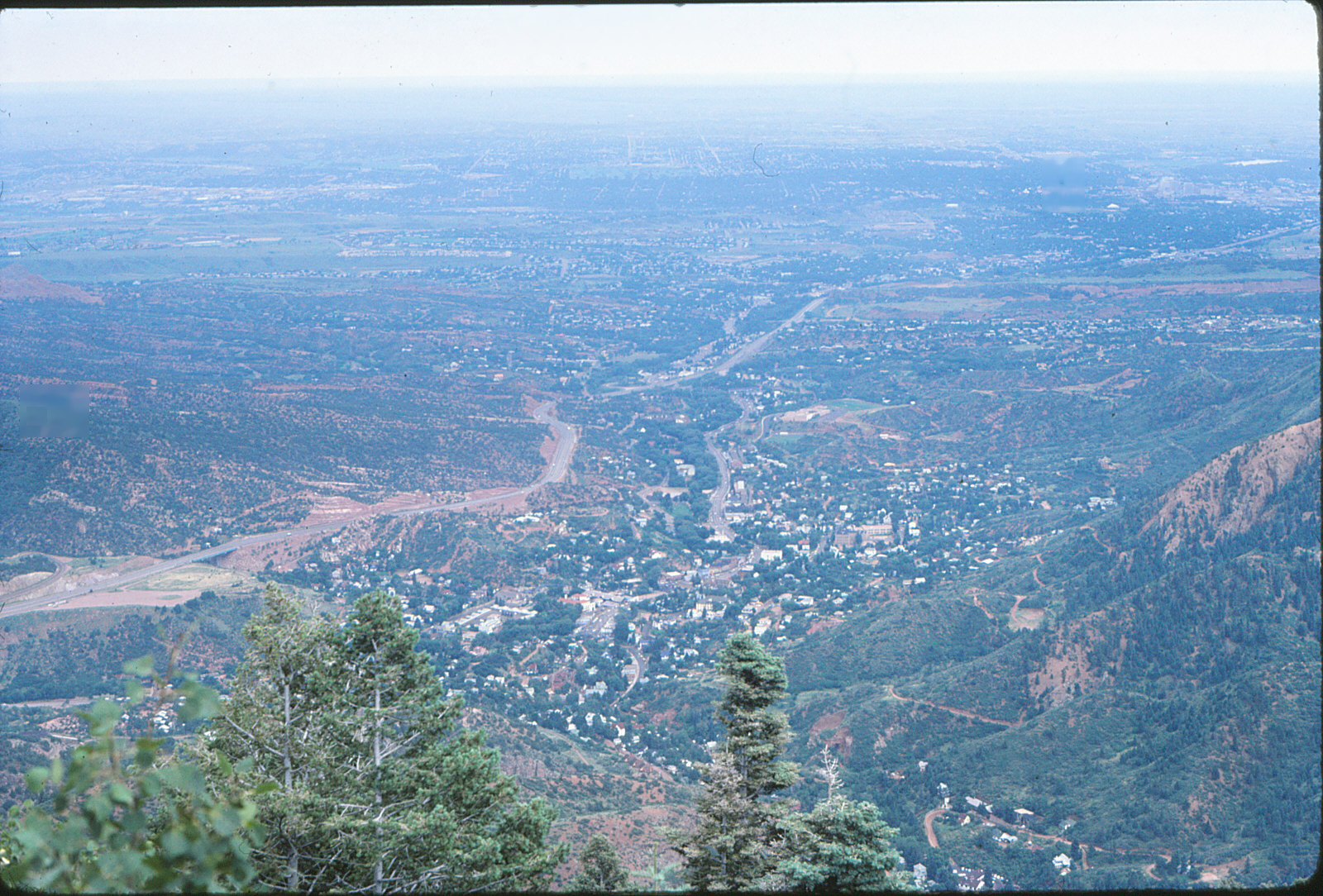 11 am - Larry took the car in for an oil change and we got a free car wash. Of course, it also was raining. We decided not to climb the Peak today because the weather was bad. Went up Manitor mountain instead. And, when I say up, I mean up. The incline went almost straight up. The seats were tilted so you would be sitting straight as you went up. We stayed on top a short time and then came down.